Cinecoup Accessibility Links current page is Black Land Mission 6: Another Angle
Black Land
You'll be dying to leave.
What was meant to be a simple environmental assessment of Black Land becomes a horror filled assessment in survival.
Vancouver, BC | Horror, Thriller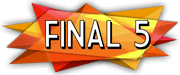 We grabbed a new cast & filmed a new trailer giving you alternative look at BLACK LAND. Same genre, kinda... We hope this shot for shot supermarionation recreation trailer would make the Anderson Brothers, Stone & Parker proud! Supermarionation is a puppetry technique devised in the 1960s. It was used extensively in Thunderbirds & Team America.