Cinecoup Accessibility Links current page is A Western Mission 12: The Big Deal
A Western
Guns, blood, and moustaches... Shut up and saddle up, it gets messy.
A down and out bounty hunter's last resort to settle his debts, leads him into a war with the deadliest gang in the west.
Vancouver, BC | Western, Comedy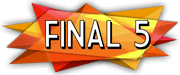 Our "Super Trailer", with introduction by my Uncle, Old Crusty Cowboy. Special thanks to one of the original four crew members Peter Carlone. Without him we never would have figured out that damn camera. Thanks Peter.